MORE ABOUT THE SERVICE
Technical information on the Wide Area Network solution
Inter-office connections do not depend on public Internet traffic – if necessary, we will create a secure Internet connection for each office directly from Telia's main network through a central firewall. Each connection can use the speed that meets the needs of the particular office.
Telia WAN solution meets ISKE version 6.00 security class M standards. The device that enables data transmission connection between LAN networks belongs to Telia, who installs and maintains devices in all LAN connection points.
Service Quality Profile (QoS) is an additional service for prioritizing data exchange. It determines how much of the total connection speed is reserved for customer's individual data transmission service.
Standard solutions use the default voice data class (VoIP). It is possible to order up to three additional custom data classes.
Service quality profile is created by Telia's administrator. Data class is identified based on IP addresses and ports of data flow's beginning and end. If some data class does not use its shared speed, it is divided among other data classes.
Central Internet access and firewall enable Internet connection for customer's local area networks based on the summarized need of all offices. Internet access is created through a central firewall.
The customer will have a static IP address, the traffic is subject to network address translation (NAT), and the ports are forwarded to special office's local networks.
It is possible to waive the Telia Central Internet upon ordering the WAN service, and forward Internet traffic to e.g. main office that has company's central Internet connection and its firewall.
Central Remote Work Account is a license-based additional service. A separate account must be ordered for each user. Cisco AnyConnect software must be installed on mobile devices.
A prerequisite for the WAN solution is Telia's data transmission connection that is also available abroad.
Additional devices required for the service
Rent of devices needed for the standard solution is included in the monthly fee. Additional devices are ordered according to the need and the rent is added to the service fee.
The following business class high-quality devices will be used for the WAN solution: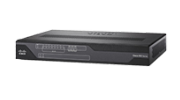 Cisco C892FSP-K9
8 Gigabit Ethernet LAN ports SFP interface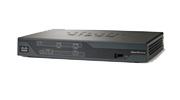 Cisco 88X seeria
4 LAN ports (xDSL connections)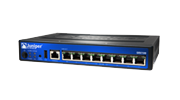 Juniper SRX-100
8 LAN ports
For remote work, "Cisco AnyConnect" software must be installed on the laptop or smart device. The price of the software is included in the service fee.
FAQ
What are the risks of free data exchange over the Internet?
Using Internet for company's internal data exchange is not always secure or convenient, because while this information is accessible to many honest people who take care of the Internet, it can also be accessed by many malicious people around the world.
Can I save by creating my own virtual private network over the Internet?
Virtual private network is like driving your car in a busy city – it's private, but the speed depends on traffic conditions and when there's a traffic jam, everyone's stuck. If you want to have your own network, you must invest in devices and take care of the network. It would be more reasonable to use a service which is a risk-free but guarantees a certain speed.
What advantages does the Telia private network have in the trunk network?
Virtual private network in Telia's trunk network is like a personal lane in a city with heavy traffic. This service gives your employees door-to-door private lanes. Thus, the service quality guarantees that priority tasks are always put first. This kind of prioritization is possible only with this service. The LAN solution wins you time and helps you to save money.
What are the limitations of wireless connection?
Radio connections are like driving a bicycle – you can go anywhere, and mostly quite fast, but there's no certainty and when the weather is bad, it's not great to ride a bike. For example, 3G capacity is limited and it's shared among all users in the area. If the overall load increases, the resource needed for a business customer is not guaranteed.
How secure is the Telia Local Area Network solution?
Telia's Local Area Network solution meets the ISKE version 6.00 security class M standards. ISKE is a three-level IT baseline security system based on Germany's BSI BSI (Bundesamt für Sicherheit in der Informationstechnik - Federal Office for Information Security) standards described in the IT Baseline Protection Manual (IT-Grundschutz).